New Haven DeMolay Honors Presentations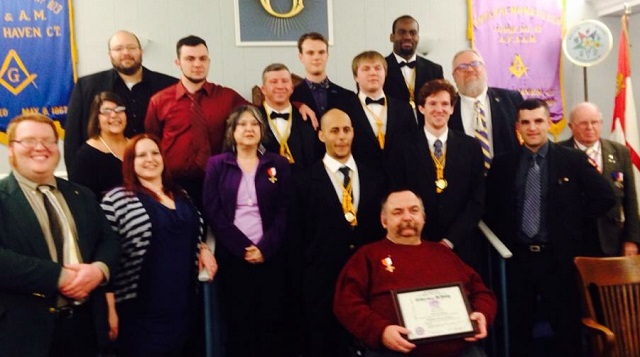 Saturday, April 9, 2016 was an exciting evening for New Haven DeMolay. An outstanding advisor was presented with the Cross of Honor and two DeMolays were elevated to the rank, dignity, and honor of Chevaliers of the Order of DeMolay.

Dad Bill Rompe was presented with the DeMolay Cross of Honor. Dad Rompe has been a long time Advisor of New Haven Chapter and has been instrumental in organizing New Haven and Sleeping Giant Chapter's Annual outing at the Fantasy of Lights at Lighthouse Point - an event that raises funds for Easter Seals and Goodwill.
Mom Dori Stern and Mom Janet Dunn, both holders of the Cross of Honor, assisted Dad Brian Beals in presenting Dad Rompe with this distinguished honor.

Brother John Doty, has been a stand out DeMolay almost from his induction, being very eager to perform and immersing himself in the DeMolay Experience. John has served New Haven Chapter as Master Councilor - an office he was very proud to hold, and has been appointed to be a State Preceptor. He's been instrumental in organizing various Chapter functions in New Haven including the very successful Toy Drives during the holidays of 2014 & 2015.
Brother Javier 'JJ' Rosario, has been a long time member of DeMolay, constantly promoting DeMolay in school and his various other activities - it was very seldom that someone would see him at school without a DeMolay shirt on. JJ served New Haven as Master Councilor, twice, and has helped the young men of New Haven Chapter understand what DeMolay is about, and "How to DeMolay".
As Grand Commander of the Connecticut Court of Chevaliers, Dad Kirk Trofatter, Jr presided over the Chevalier investitures, aided by Commander in the West, Dad Jamie Dunn, Commander in the South, Dad James Cavanaugh, Grand Chaplain, Brother Michael Gendreau, and a pair of Grand Marshals, Brothers Karl Parks and Mario Scherer.
Congratulations to all of the recipients on their well deserved honors.