Auvergne Chapter (Honorary DeMolays) are now recruiting new Master Masons to become their newest members.
This year's class of new members into Auvergne Honorary DeMolay Chapter will be in honor of MWGM Charles W. Yohe and will be conferred on Saturday, October 3, 2015. Auvergne Honorary DeMolays are Master Masons who did not have the opportunity to join the organization in their youth. Now, understanding the work this Masonic organization does for young men 12-21, they seek to learn more by becoming Honorary DeMolays.
All non-Senior DeMolay Master Masons are invited to become Auvergne DeMolays beginning at 7:30 PM on October 3, 2015. Officers of Connecticut DeMolay will exemplify both degrees of DeMolay upon the class, to be held at the West Haven Masonic Temple, 263 Center Street. Each initiate is presented with a framed certificate and lapel pin identifying them as an Honorary Member. The cost to each initiate is a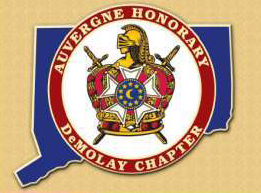 single lifetime payment of $100.00 to Connecticut DeMolay, with no annual dues.
A petition may be found by clicking here.
Please return completed applications to Sue Carpenter, 29 Dawes Street, Milford, CT 06460, as soon as possible.
On-line applications may be returned to Sue at sue.carpenter@ctdemolay.net.
Lifetime Membership Application Fee is only $100.
Questions may be referred to Master Councilor, Dad George Greytak, by email at george.greytak@ctdemolay.net or by phone at 203-417-6773 or Dad Ken Hawkins, Chapter Chairman by email auvergne@ctdemolay.net or by phone at 203-783-8742.