Chevalier Investiture - Mario Scherer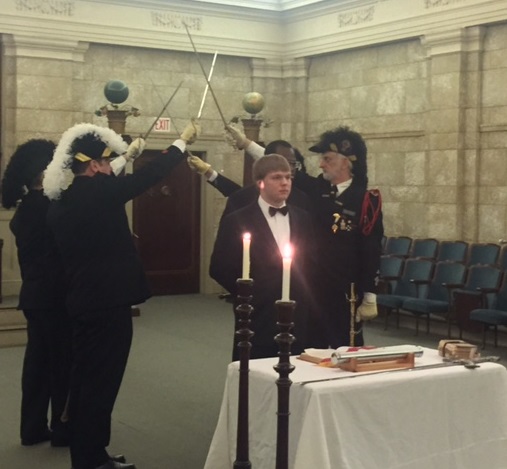 Friday Evening, March 27, 2105 the officers, members, and advisors of New Haven Chapter, along with Connecticut DeMolay, celebrated the Chevalier Investiture of Mario Scherer.
Brother Mario has been a very active member of Connecticut DeMolay since joining. He is a Past Master Councilor of Edward W. Slade Chapter, in Wallingford, a Past State Officer, and a positive mentor for DeMolays all over Connecticut. This honor has been bestowed on a very deserving brother.
The ceremony was presided over by Executive Officer, Harry E. Needham III, with Commander in the West, Dad Bryan Anderson, Commander in the South, Dad Salvatore R. Ferrigno, JR, Grand Marshal, Brother Karl Parks, and Grand Chaplain, Dad Kirk Trofatter, Jr. Dad Gordon Candee presented the ring, which was a special donation through New Haven Chapter.
Officers of the Grand Commandery of Connecticut provided the Arch of Steel, led by VE Deputy Grand Commander, Randy S. Stevens, who also presented Mario the Chevalier Lapel Pin, courtesy of the Grand Encampment of Knights Templar.
Technology played a part in the evening's festivities, as Brother Jamil Newsome offered his congratulations via Skype - a very entertaining moment it was.
The State Suite Officers lead by State Master Councilor, Nicholas S. Carpenter provided the opening and closing ceremonies.
A good time was had by all!