New Legionnaire - Christopher J. Buck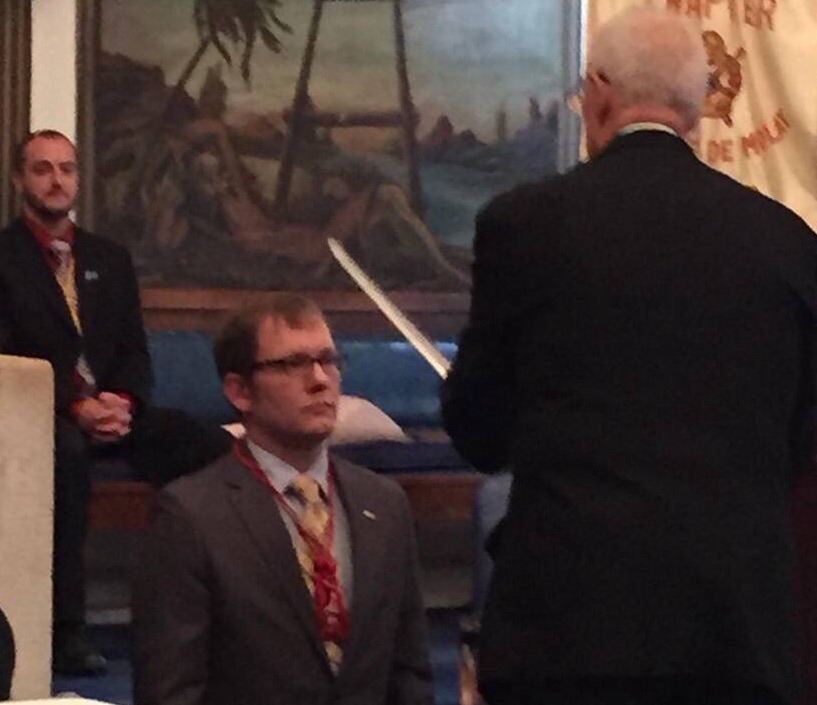 On Saturday, November 15th, Dad Christopher Buck was made a Legionnaire of the Legion of Honor in Milford. The chapter room was almost full as the State Suite opened the ceremony before handing it over to Dad Charles Buck Jr., who presided in the East for his son's investiture. Dad Ken Hawkins sat in the South and Dad Kevin Field sat in the West for the afternoon. The ceremony also featured members of Milford Chapter who performed the preceptors for the ceremony and presented Dad Buck with the flowers particular to the ceremony.
Ever stoic, Dad Buck appeared very serious and dignified during the degree but couldn't hide his smile when he was finally knighted by his father and rose to a standing ovation from the assembled guests. He spoke of the tremendous honor it was to receive the highest honor DeMolay International could bestow on somebody and thanked all of those who helped him along the way.
It seemed everyone in the room had something to say about Dad Buck but they all boiled down to the same idea. Dad Buck is an incredibly hard working advisor who has met success both during his DeMolay (he is a Past State Master Councilor) and during his time as an advisor. He is a humble man who, despite his obvious qualifications, questions whether he actually deserves this honor.
But now, he is a Legionnaire of the Order of DeMolay, a distinction that few doubted he was going to receive.