Chevalier Investiture - Lorenzo Cardoso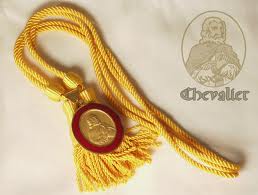 On Friday January 16, 2015, the officers and members of Edward W. Slade Chapter celebrated the Chevalier Investiture of Lorenzo Cardoso.
Brother Lorenzo has served Edward W. Slade Chapter admirably since joining DeMolay at Brotherhood Weekend in 2007. He has served as Master Councilor several times, earning the Past Master Councilor's Meritorious Service Award, he served as a State Preceptor, State Senior Deacon, State Junior Councilor, and State Senior Councilor. Lorenzo was one of the Edward W. Slade Chapter's most consistent brothers, ever true to the word, and always ready to serve DeMolay whenever called upon.
Executive Officer Harry E. Needham III presided over the ceremony, with Dad Kirk Trofatter, Jr in the West, Dad Gordon Candee in the South, Dad Tyler Anderson as Marshal and Dad Paul Evangelista as Chaplain.
Brother Cardoso could not be more appreciative for receiving such an honor, and thanked his family and friends for their support throughout his DeMolay career and life. He recalled the examples of the State Master Councilors that he was privileged to serve under in the State Suite, and felt humbled to be considered among them as a Chevalier.
Also this evening was the Chapter's Installation of Officers where Brother Andrew Birdsall was installed as Master Councilor. This was Andrew's 3rd Installation as Master Councilor and 4rh time serving (twice for Sleeping Giant Chapter and once for Nathan Hale Chapter).
The State Officer's did an admirable job lead by State Master Councilor Nicholas Carpenter in the public opening and Installation of Officers.