Carpenters Honored in Milford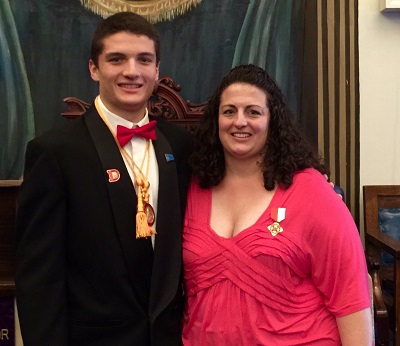 Saturday afternoon, October 11th, State Master Councilor Nicholas S. Carpenter and his mother Mom Susan Carpenter were honored with the Chevalier and Cross of Honor Investitures.
Until a recent job promotion, Mom Carpenter has served Milford Chapter as Scribe since the chapter's resurrection in 2007 - managing to keep the chapter calendar, minutes, registrations and even advisors in order. She has served Connecticut DeMolay during this time as well, managing the calendar, website, DeMolay International paperwork and more. For all this and more, Mom Carpenter is a very deserving recipient of this prestigious honor. The ceremony was performed by advisors of Milford Chapter, Dad Kevin Field served as Master Councilor, Dad Mike Sheffler, Senior Councilor, and Dad Mark Hawkins as Junior Councilor, assisting them as Marshal was PSMC James Cavanaugh. Executive Officer Harry E. Needham III made a few remarks about Mom Carpenter, presented the patton and requested Dad Ken Hawkins present the medal to his daughter.
State Master Councilor, Nicholas Scott Carpenter received the Degree of Chevalier. Nick has been a principle player in the growth of Milford Chapter since joining at Brotherhood Weekend in 2007. He has served as Master Councilor and has earned the Blue Honor Key for recruiting 10 members into DeMolay. He's been an outstanding leader for Connecticut DeMolay having served as State Marshal, State Senior Councilor, Deputy State Master Councilor and now as State Master Councilor. The degree team was headlined by Executive Officer Harry E. Needham III as Commander in the East, Past Grand Master Ken Hawkins, Commander in the West, Dad Kevin Field, Commander in the South, Region I Cabinet Member James Cavanaugh, Grand Chaplain, and Grand Junior Deacon Sal Ferrigno, Grand Chaplain.
In attendance was Rhode Island State Master Councilor, Justin Cargill, Grand Commander of the Connecticut Court of Chevaliers, Harry E. Needham IV, and State Sweetheart Elisha Valencia.