Nathan Hale Chapter Chartered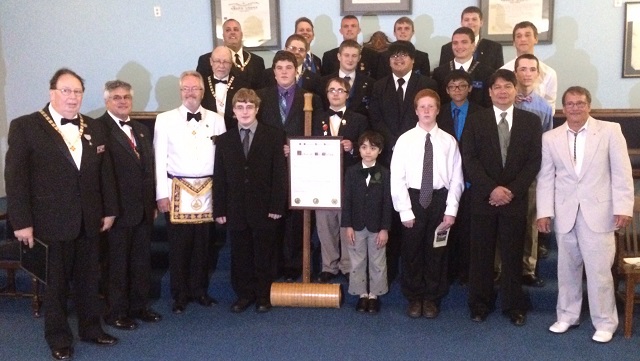 On Sunday, June 29, 2014, Nathan Hale Chapter became the newest Chartered Chapter in DeMolay International and Connecticut DeMolay.
After introductions of the distinguished guests, including Dad Simon R. LaPlace, the Most Worshipful Grand Master of Masons in Connecticut, State Master Councilor, James P. Cavanaugh II and the State Suite Officers performed the public opening ceremony.
Dad Harry E. Needham III, Executive Officer, began the festivities by installing the Advisory Council, including Dad Martin Valencia as Chapter "Dad" Advisor and Dad Brian Beals as Chairman.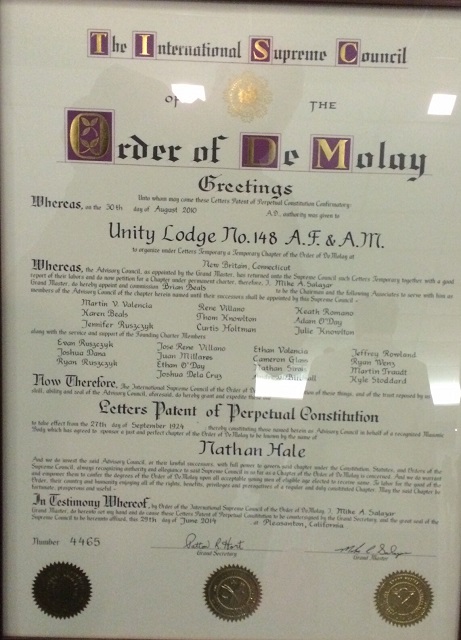 With the Advisory Council now installed, Executive Officer Needham was able to present them with the Charter, granting full permission from The International Supreme Council for the operation of Nathan Hale Chapter under their rules and regulations. Dad Curtis S. Holtman also presented a copy of the original charter from 1924, to be kept with the chapter records. Dad Simon R. LaPlace presented a picture of Nathan Hale Chapter Officers dated 1933, and noted that after some research, it was found that at least 6 of the 12 young men in the picture went on to become Masons - an example of the ties between DeMolay and Masonry, and he expressed the importance that DeMolay is to Masonry.
State Master Councilor Cavanaugh and the State Officers then proceeded to install the Charter Officers of Nathan Hale Chapter, lead by Master Councilor, Jeffrey Rowland.
Deputy State Master Councilor, Nicholas Carpenter performed the Flower Talk for the members of Nathan Hale Chapter.
Executive Officer Needham then called on Dads Curtis S. Holtman and J. Andrew Birdsall and presented them with the Zerubbabel Key, an award granted for individuals chiefly responsible for organizing a new or reinstated Chapter. Dad Holtman was the catalyst behind the initial efforts to have a DeMolay Chapter in New Britain. Dad Birdsall maintained those efforts and helped organize the current group of advisors and members.
Most Worshipful LaPlace concluded the ceremonies by presenting Dad Needham with a Zerubbabel Key for his direct involvement, not only as Executive Officer, but as a member of Unity Lodge #148 and perhaps the driving force behind making the Charter presentation on this day possible - well deserved.
After the ceremonies, New Britain Assembly #6 and Meriden Assembly #11 assisted the advisors (Moms Suzie Dana, Jennifer Ruszczyk, Karen Beals, and Emily Dela Cruz with serving a delicious dinner.
Nathan Hale Chapter is off to a GREAT start, not only with the enthusiasm of their members, but the support of a good lodge and a strong Rainbow Assembly.
Thank you to all who made this day possible.