Milford Chapter Installed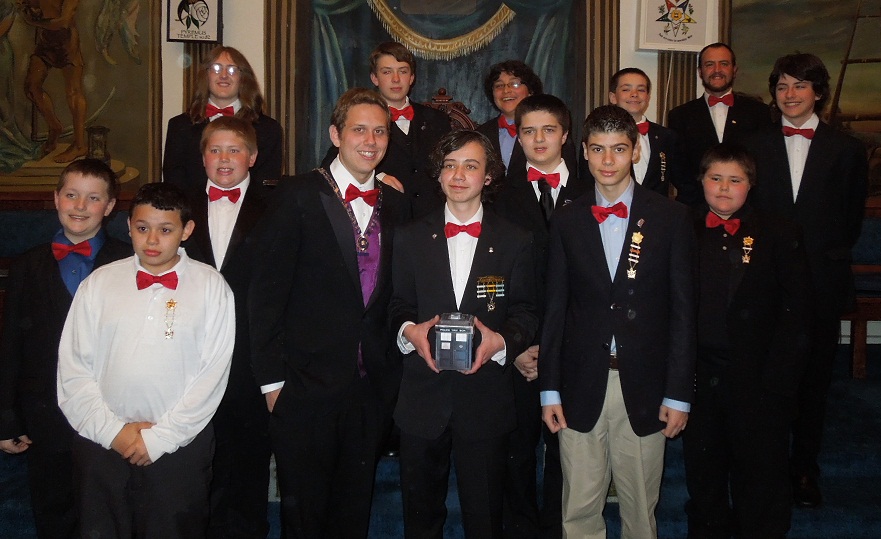 Saturday evening, May 11, 2013, the Officers of Milford Chapter were installed for the upcoming term. Brother Noel Womack was installed as Master Councilor along with 12 other chapter members in their respective stations.
Noel took command of the floor, thanking his family and friends for their support to get him this far, and thanked the Advisors for their continued support of the young men of Milford Chapter. As he walked the floor, presenting gifts to individuals that have particularly helped him on his journey (and even his sister), he recalled their efforts that have helped shape his DeMolay career. For his term, Master Councilor Womack presented his officers with red bow-ties, in honor of his favorite show Dr. Who, and asked the chapter members to wear the red bow-ties to Chapter meetings and Conclave.
State Senior Councilor, Nick Carpenter, a Past Master Councilor of Milford Chapter, presented the Flower Talk for one of the Chapter's newer members, and in honor of Mother's Day.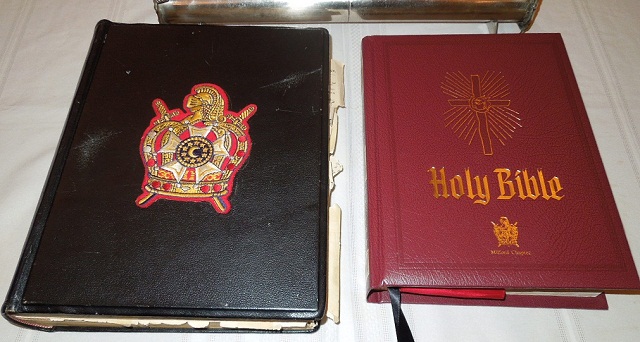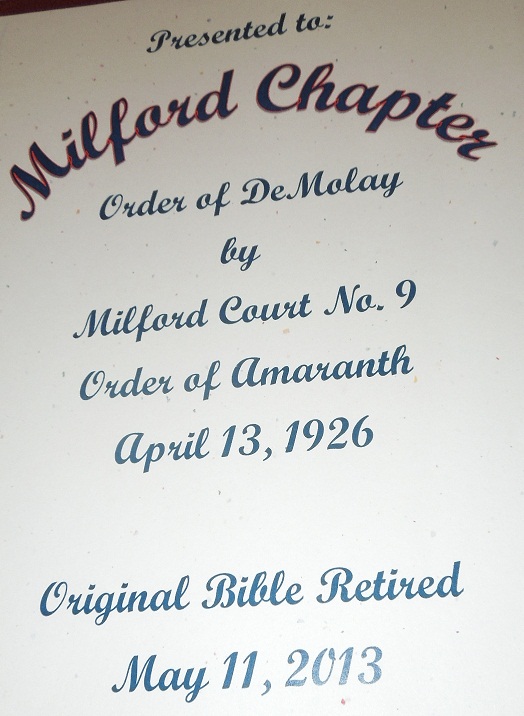 Dad Kenneth Hawkins, Chairman of the Chapter Advisory Council, retired the Chapter's Bible, which was given to the Chapter by Milford Court #9, Order of Amaranth on April 13, 1926 and restored by "Dad" Leslie M. Burgess (one of the original Chapter members of Milford Chapter) in 1984. In commemoration of the original Bible's origin, the new Bible was presented through Dad Hawkins from Milford Court #9, Order of Amaranth, and is labeled, as such, inside the front cover.
As the Connecticut DeMolay year draws to a close at Conclave (July 12-14, 2013), it was necessary for Deputy State Master Councilor, James P. Cavanaugh II to preside for the evening. State Master Councilor, Matthew Lingenfelter handed over the gavel to James, who did a commendable job as did the other officers of the State Suite.