Senior DeMolay is new Grand Master of Masons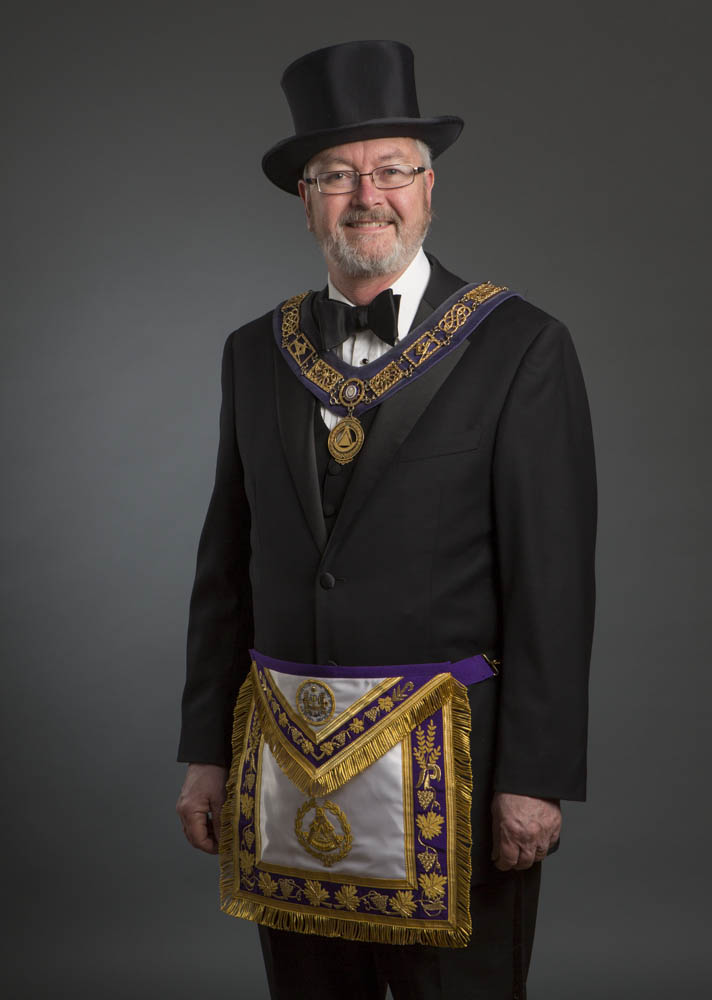 Senior DeMolay Bro. Simon R. LaPlace is the 2013-2014 Most Worshipful Grand Master of Masons in Connecticut. He was installed on April 8 by a team led by Dad George S. Greytak, a Past Grand Master of Masons who is an Auvergne Honorary DeMolay, Deputy Member of DeMolay International, and Deputy Executive Officer for Connecticut DeMolay.
Our new Grand Master is the twelfth Senior DeMolay to become Connecticut Grand Master in the last 48 years. He was a member of Mattabesett Chapter in Middletown before leaving Connecticut to attend Cornell University in upstate New York.
Bro. LaPlace is the retired owner of his family's furniture store in his hometown of Deep River. His wife, Debbi, is a staff member in the Grand Lodge office in Wallingford. Son Julian, also a Mason, lives in New York City and assisted in his father's installation as Grand Master.
A strong supporter of DeMolay, Grand Master LaPlace will be attending many of the state chapter's events during his term. He has asked his Grand Lodge officers, District Deputies, and Associate Grand Marshals to attend the installation of DeMolay's new state officers at Conclave in July as a way of showing support for the new State Master Councilor, his team, and Connecticut DeMolay.
A large number of Senior and Auvergne DeMolays will assist Bro. LaPlace in his work as Grand Master. He succeeds Auvergne DeMolay and now Past Grand Master Gary W. Arseneau. The new Deputy Grand Master is Auvergne brother Thomas M. Maxwell, II, while Rhode Island Senior DeMolay Charles C. Maxson succeeded himself as Grand Treasurer.
Bro. LaPlace appointed Senior DeMolays Brian Beals as Grand Senior Steward, the Rev. Bruce R. Bellmore as Grand Chaplain, and father-and-son alumni Richard C. Memmott, Sr. and Jr. as Grand Tiler and Associate Grand Tiler.
Auvergne Honorary DeMolays in the line include Bradley K. Cooney as Grand Senior Deacon, Kenneth I. Greenhill as Grand Marshal, Benjamin A. Isaacson as Grand Junior Steward, and Carl H. Anderson, continuing as Grand Organist.
Serving as District Deputies are Senior DeMolays Harry E. Needham, III, Executive Officer (with fellow Doric Chapter alumnus Gordon M. Candee as his Associate Grand Marshal), Francis DiStefano, Salvatore R. Ferrigno, Richard Miller, and Scott T. Sherrick. Associate Grand Marshal Thomas Transue is also a Senior DeMolay. Auvergne DeMolays Rafael Figueroa, Jr. and Gary Matican are District Deputies, and Auvergnes James Anderson and David Berger – who is the partner of Bro. Matican – are Associate Grand Marshals.
Connecticut DeMolay congratulates new Grand Master LaPlace and his entire team on their installation and looks forward to seeing them at DeMolay activities during their service to the Grand Lodge.