Doric Chapter - "Candlelight Heroes"
As many of you may be aware, tragedy struck an elementary school in Sandy Hook, CT on December 14th. Twenty young school children and 6 educators were murdered in the second worst school shooting in American History.
Although there were no Connecticut DeMolay families directly affected, one chapter has stepped up in the true spirit of DeMolay. Sandy Hook Elementary School was located just 3 miles from the homes of several members of The Doric Chapter.
The Monday after this horrific event, three members from The Doric Chapter, along with a few of their friends took the short ride to Sandy Hook to observe the memorials that were springing up. They had brought flowers and teddy bears to place on the memorials. While there, they noticed that many of the candles set out by mourners had been extinguished by the course of nature. They went to a local store and purchased lighters and candles and returned to the memorials and relit the candles. They also brought coffee for the numerous police officers who were manning these areas.
Later that night it was decided between Past Master Councilors Tyler Brush and Jason Ferenczy and current Master Councilor Ray Massi that The Doric Chapter would commit itself to relighting the candles left at the memorial each night until there were no more candles to light. Since that time the memorials have grown, with hundreds if not thousands of candles throughout. Each night since December 14th, rain, snow or shine, members of The Doric Chapter have traveled to Sandy Hook and relit any extinguished candle. They have been dubbed by one reporter as the "Candlelight Heroes". Each night, after they have finished relighting the candles, they kneel as DeMolay and say a short prayer just hundreds of yards from the entrance to the elementary school where this tragedy occurred.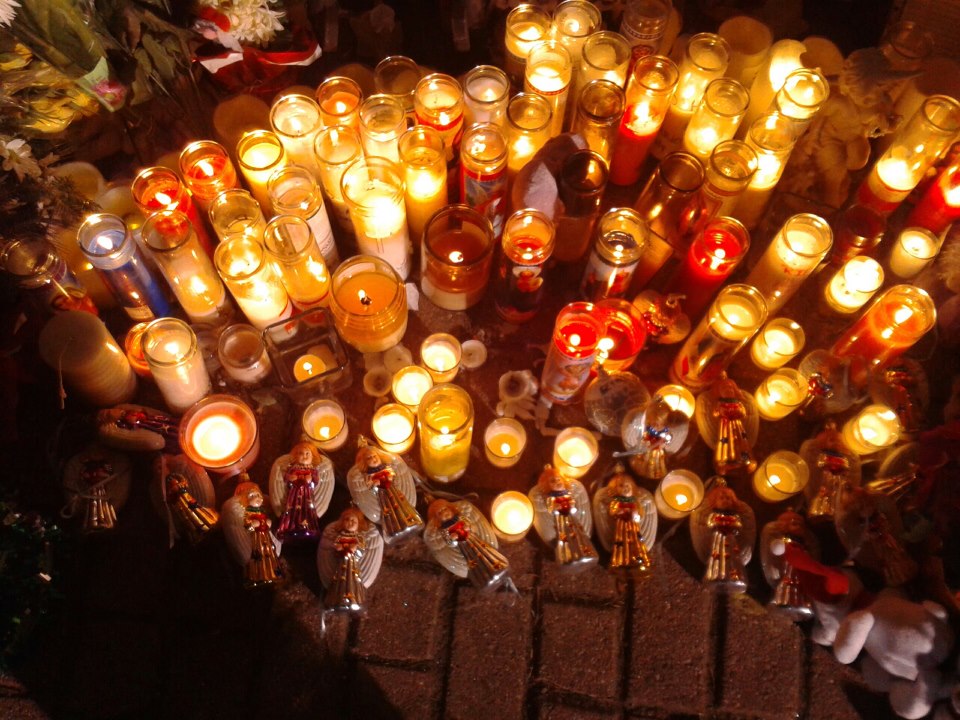 Pictures of these DeMolay have appeared around the globe. The Wall Street Journal, The LA Times, The New York Times, Reuters and USA Today just to name a few. In the majority of these pictures they are just unnamed individuals but we would like to thank Tyler Brush PMC, Jason Ferenczy PMC, Ray Massi MC, Glenn Mackbach JC, Ryan Torony SC, CJ Kuehnle JD as well as our advisors for their assistance.
Dad Chuck Brush, Chairman of The Doric Chapter Advisory Council, in a letter to CT DeMolay Advisors said, "We should all be proud today for the youth which we advise and nurture to become mature, self-thinking, articulate and respectful young men. Today, I could not be prouder to be an advisor of this youth organization."
I was awed by the amount of people approaching me in tears. Many thanked me, shook my hand, and some even hugged me. I couldn't wrap my head around how complete strangers could feel like family. A man approached me and slipped a bill into my hand and said, "Thank you for everything you're doing, put this towards more lighters and candles". I couldn't thank the man enough, not for the money, but for supporting what we were doing for the town. As I knelt in the rain and wind struggling to light candles, I heard people behind me talking and crying, which unfortunately was common there. But it wasn't the crying that got to me, it is what I heard in a weeping voice, "These boys were here since 7pm (It was well after 10PM) lighting candles..." I thought, "How could these people be thinking of us at a time like this?" This is when I turned around and observed a semi circle of citizens, all watching as I lit candles. I realized that they weren't just candles I was lighting, but each symbolized hope, almost a beacon of light at the end of this long, dark tunnel. It sank in that it is the little things, seeing people smile and be together that are important. That during times even as hard as this, we can help each other to persevere.
We will return to Sandy Hook as long as there is one more candle to light, rain or snow, day or night. Some people might think we are just wasting our time, and that is fine. We will continue to waste all the time in the world if it means that we can put a smile on someone's face or restore someone's lost hope. From the bottom of our hearts, we thank anyone who has helped in our endeavor and may god bless each lost soul and help the survivors and first responders to find peace and to persevere."
**UPDATE** As of Sunday Evening, December 30th, the makeshift memorials have been removed and the candle lighting is no longer being done. The town will announce their plans for a permanent memorial sometime in the future.