Executive Officer Visits LTC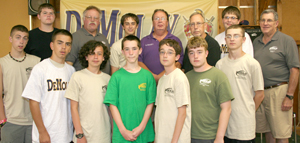 Executive Officer "Dad" Harry E. Needham, III and State Master Councilor Matthew Lingenfelter visited the Region 1 DeMolay Leadership Conference at Camp Lions Pride in New Durham, NH on Wednesday. Above, Dad Needham is pictured with Dad Carl Ek, Dad Herbert Mower, the State Master Councilor and the members of Connecticut DeMolay that attended.
Visit the Region 1 LTC Website for more information
All attendees receive training in: Leadership Development
Membership Growth — Program and Event Programming — Public Speaking
Ritual Enhancement — Fund Raising — Masonic Relations — Civic Service
Public Relations — and much, much more!
Special Note-On Saturday when I picked all attendees up at LTC I was excited to see the enthusiasm of our new leaders. Well done gentleman, your chapters are fortunate to have you as their leaders. Dad Harry E. Needham III
Pictures of the guys at LTC can be found here.