John Carpenter Wins Bingo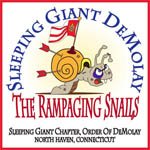 Sleeping Giant Chapter held almost all DeMolays attention during sessions at this year's Conclave, especially when Dad Needham was speaking.
All DeMolays were handed Dad Needham Buzzword Bingo Cards, containing words such as, change, staff, soda, Yankees, and invest. Any time Dad Needham used a word during sessions, the DeMolays were frantically marking their paper in an effort to be the first to call out 'Bingo".
The attention was so good, that the young men did not watch their watches while Dad Needham was speaking, and they were very attentive to every word Dad Needham spoke.
John Carpenter was the first to call out "Bingo" when SMC-Elect Lingenfelter coerced Dad Needham to use the word 'dynamic'.
Sleeping Giant Chapter made good on their prize offering, by rewarding young Carpenter with a large pizza.